A Shovel, a Broom, a Wheelbarrow and Two Friends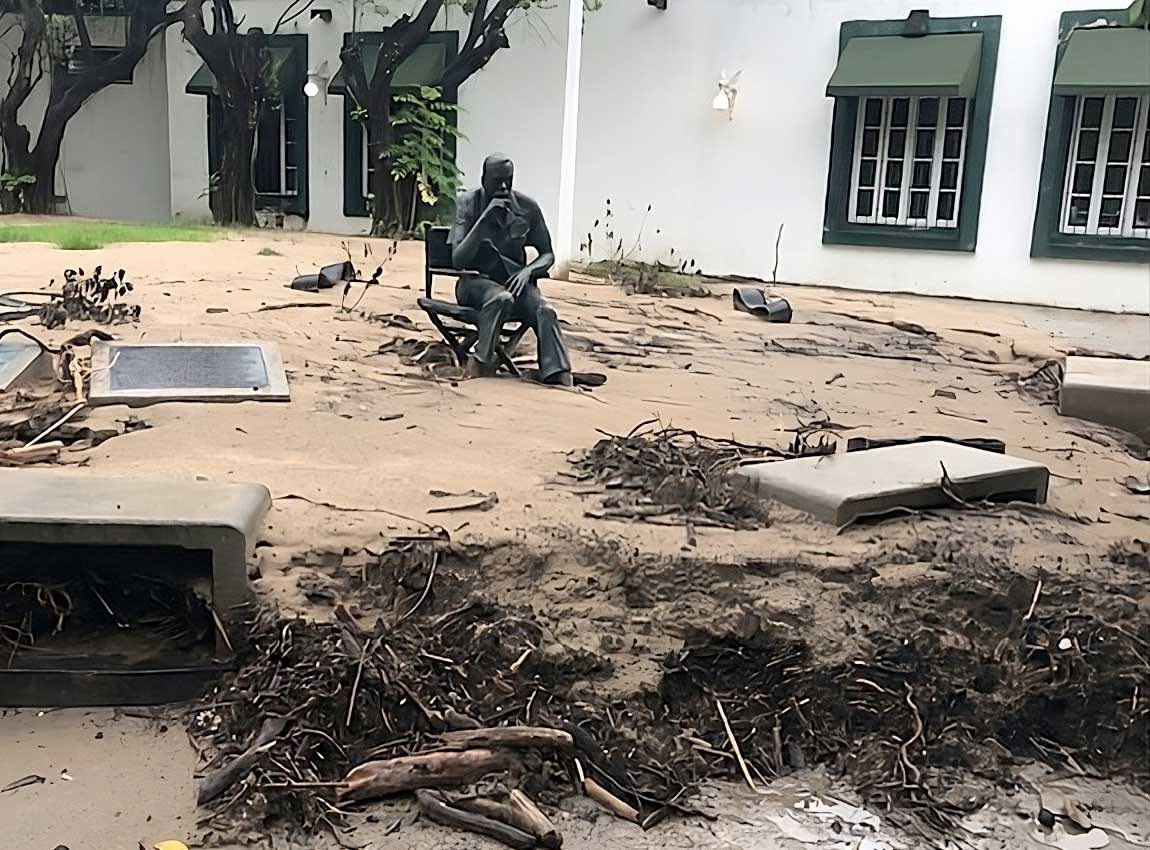 It was a shovel, a broom, a wheelbarrow and two friends that brought a community together after hurricane Nora to restore a little island paradise. I had just flown into my beloved adopted city of Puerto Vallarta, after visiting my mother in California, anxious to see the damage from hurricane Nora. My first stop would be to see if I could talk to my friend Jorge who owns a local restaurant on Cuale Island, a beautiful little island near much of where the damage had been reported. At this point I had only seen drone footage of the island and it looked to be partially underwater.
The only access to the island at this point was from Iguana Bridge, a large cement pedestrian bridge connecting it to Gringo Gulch. The small rustic wooden suspension bridge on the other side was damaged, twisted, and caught up in some trees during the hurricane. As I approached Iguana Bridge I saw a yellow caution tape blocking the upper entrance. I decided to go under the tape and cross the bridge anyway where I was met by two local police officers. In my best Spanish, which isn't very good, I told them I was there to see my friend Jorge. Just then Jorge appeared in the doorway of his restaurant. He smiled broadly and shouted my name. The police waved me through and thus began our quest to restore Rio Cuale Island Cultural Center.
It did not start out as any grand restoration project. It was simply two 60 year old men, one gay, one straight, who could only minimally communicate, and who wanted to help each other. Though frankly, Jorge's English is for sure one level better than my Spanish.
Jorge and I met over a year ago. I live just above Cuale Island, in Gringo Gulch, and on my way to the gym I love to walk through the island . The charm, beauty and tranquility of Cuale Island is definitely a great way to start any day! When I first began walking the island, all the restaurants there were closed due to the economic consequences of the pandemic. However, soon Jorge reopened Las Brazzas, which is located within the cultural center, and I sat down for an afternoon margarita. The four decades old family restaurant is small and humble, yet immense with the genuine warmth of the people. I was hooked. Thus began my friendship with Jorge and much more. Las Brazzas became a community watering hole where I met many new friends from all parts of the world. I was home.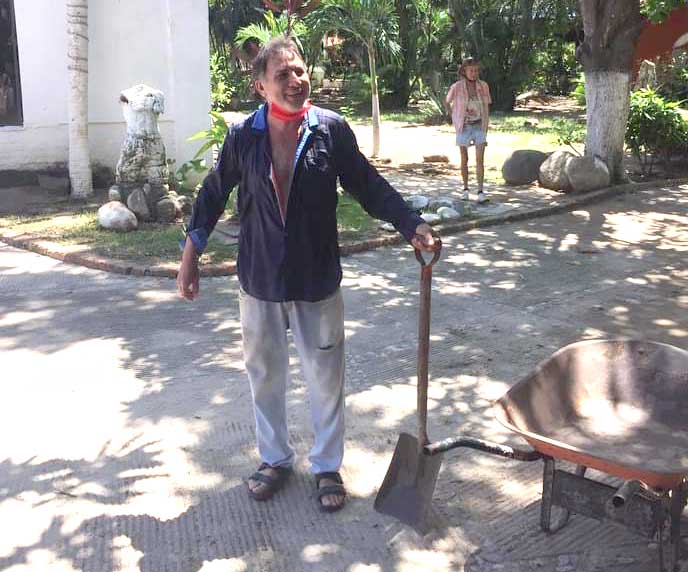 Sometime late that afternoon Jorge and I decided we should start cleaning around his restaurant. There was three inches to two feet of sand and debris everywhere. It was obvious we were going to need more than a broom. The next day I borrowed a shovel from my friend Bill and off to the island I went without any idea what was ahead of us. Initially Jorge and I shoveled the sand into large white buckets.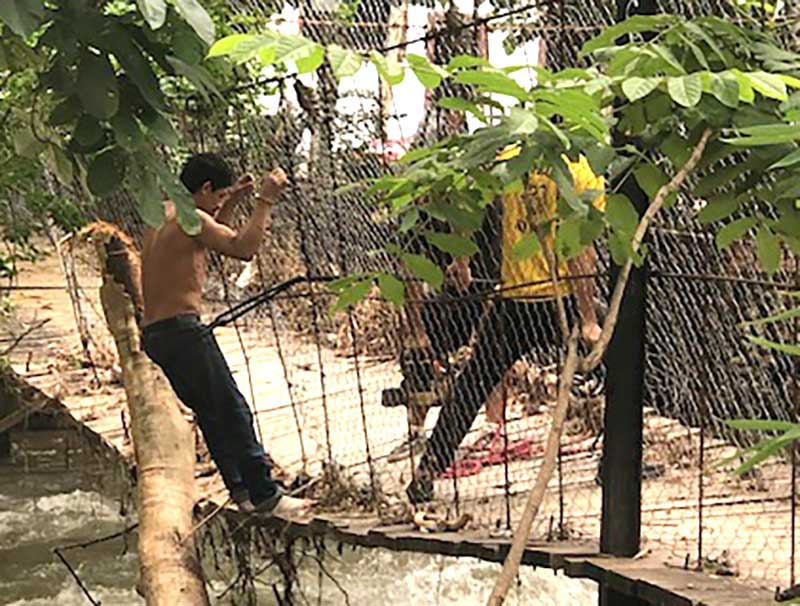 Soon we located our first wheelbarrow from Mr. Lopez, the maintenance man at the now deserted Babel Bar.
By the end of the day, it was clear we needed help. It was too big a job just for the two of us. I went home and posted a plea on two Vallartian Facebook pages. The next day Gary, Warren, and their friend Kim arrived eager to help. Gary and Warren had also found the island to be a special oasis. They have been visitors to Vallarta for years and had made it their home a few years prior. Their relentless energy and positive attitude was inspiring. There was hope. After that Gary and Warren placed a call to Jimmy and Francie from the Vallarta Food Bank (VFB). Jimmy contacted me and asked if we needed any help. What a godsend!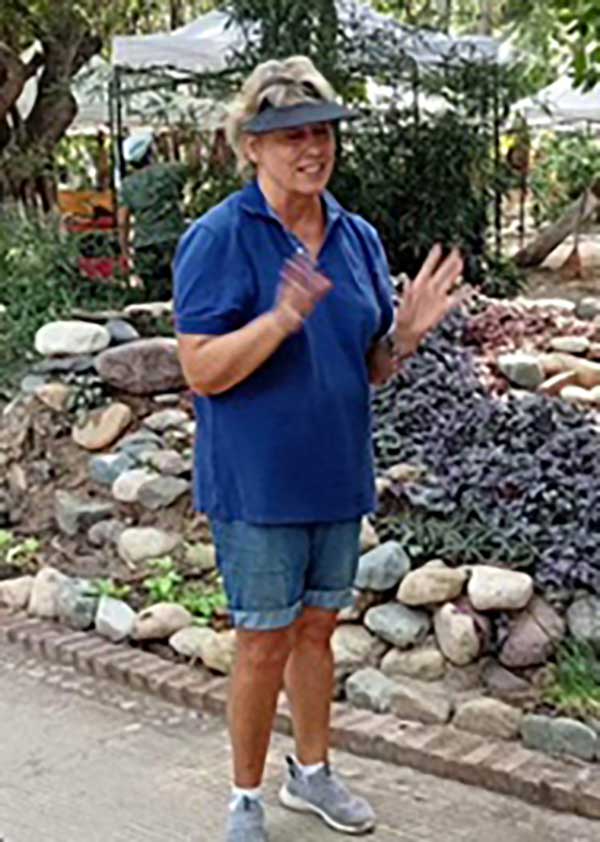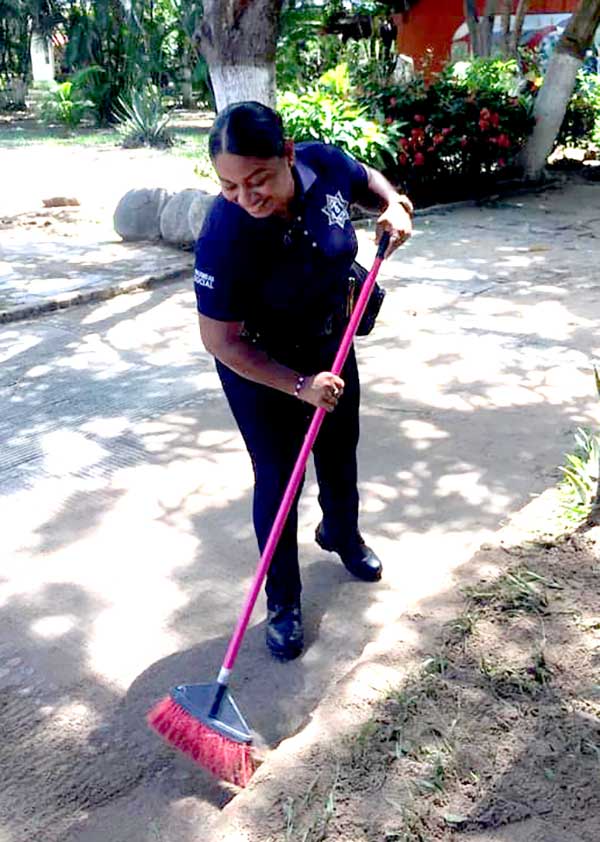 The Vallarta Food Bank (Jimmy and Francie) are a force to be reckoned with here in Vallarta! These two don't wait on the government to accomplish goals. No. Through their force of personalities, passion, drive, tenacity, hard work, and compassion they have led VFB in feeding tens of thousands. And though they were dealing with their own devastating damages and cleanup now too, they and their volunteers were coming to the Rio Island River Cultural Center to help clean up. This was a game changer! We could now envision cleaning up much more then just around Jorge's Las Barrazas restaurant, but also much of the island. Wonderful pathways that previously guided you from one end of the island to the other were now unfortunately under a foot of sand, mud and debris in many places. There was much work to be done.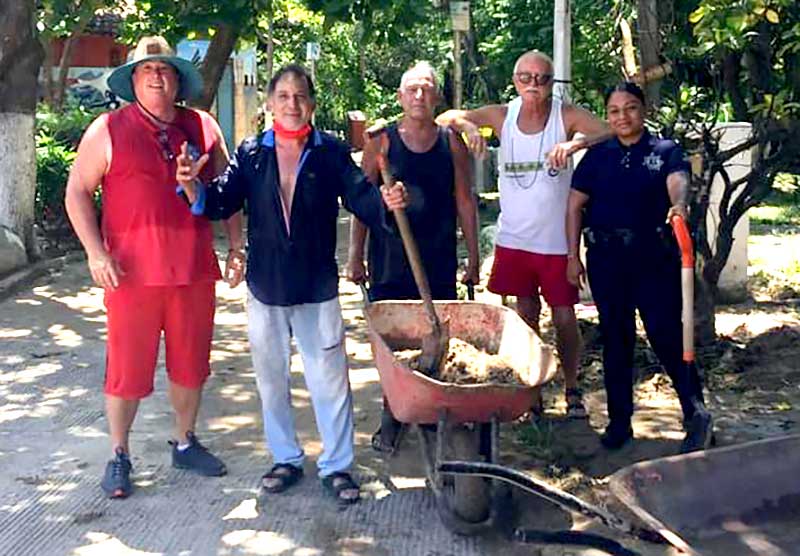 Late in the afternoon on the third day, before the arrival of the VFB, I was talking with Mr. Lopez and he thought he could release the pedestrian bridge from two trees twisted up against it, if only he had a chainsaw. Knowing this pedestrian bridge was instrumental to opening the island, and that it's an important walkway connecting Old Town with the island and Gringo Gulch, I began asking around and sure enough I received a call from my friend Bill who had seen someone outside his home with a chainsaw. I was able to secure the chainsaw with a small token of my appreciation and off the chainsaw and it's owner went to the wooden suspension bridge. The owner of the chainsaw was initially and understandably
reluctant to use his equipment in such a dangerous situation. However, with some encouragement from Mr. Lopez and a plan, they went to work. It was indeed dangerous, but with their heroic efforts they freed the pedestrian bridge and now the equipment and volunteers from VFB could arrive easily on the island for its restoration.
Once Vallarta Food Bank arrived the Island was a bee hive of activity as community members poured in to help. Organized largely by Juri from VFB, the volunteers started clearing the pathways throughout the island. Ten days later with tons of sand and debris removed, we could proudly walk the island with a sense of accomplishment.
Ernesto from the Cultural Center Focus on Art and Nature who worked tirelessly to liberate the island could now return to his little oasis on the Island to plan the next exhibit. Jorge could begin to plan his restaurant reopening with the expectation, "If we rebuild, they will come." And we have.
In the end, it was a community that came together to help each other and restore our beautiful little river island. Something good was created from the shovel, the broom, the wheelbarrow, and friends.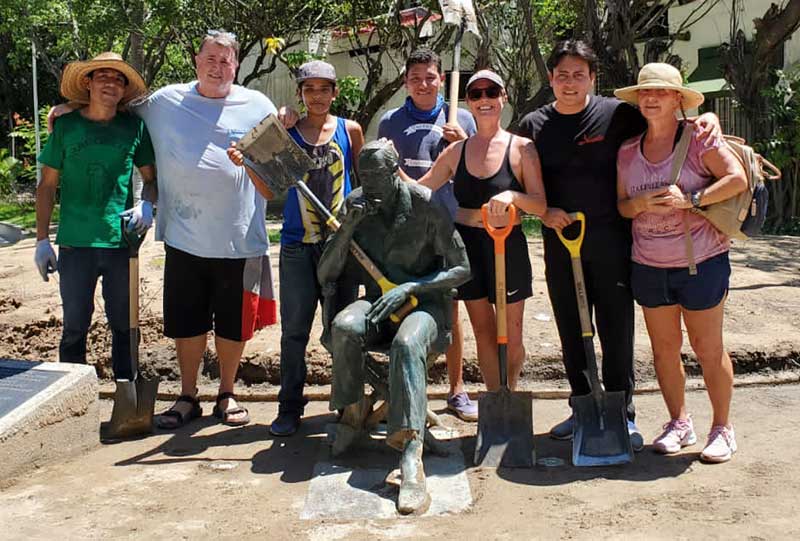 A few days after the initial clean up finished, I was walking up the Iguana Bridge with my friend Mitch Kushner, and we were discussing the problems with the bridge. Then and there, Mitch and I decided to meet with Ernesto from the island's small, private, community-based art center to discuss creating a community organization to revitalize the Isla Cuale, starting with cleaning and painting the Iguana Bridge
Miracles do Happen
I was knee deep in sand and mud asking " higher power" for help, when I saw a pretty lady with a big smile approaching with a tall man walking a cute dog.
I call it a miracle; others might say it's simply coincidence, but the lady with the big smile was sent from the angels. Her name was Sunny, and she was with her always-helpfu and skilled husband, Robert. A Master Gardener, Sunny has years zs with beautiful plants and flowers. I nicknamed it "Sunny Magic." Sunny and Robert's positive, can-do attitude was a breath of fresh air and recharged my battery.
Other Talent Behind the Scenes
Soon, other talented volunteers began to emerge to form an unofficial committee: "Amigos de la Isla Cuale."
I met Suzanne on the island (when you're knee-deep in dirt and leaves, a lot of people want to know why). Suzanne has talents that any growing organization needs: graphic arts, accounting and a keen and level-headed mind for o ganization. It's not often you find someone who is talented with art, the English language and numbers!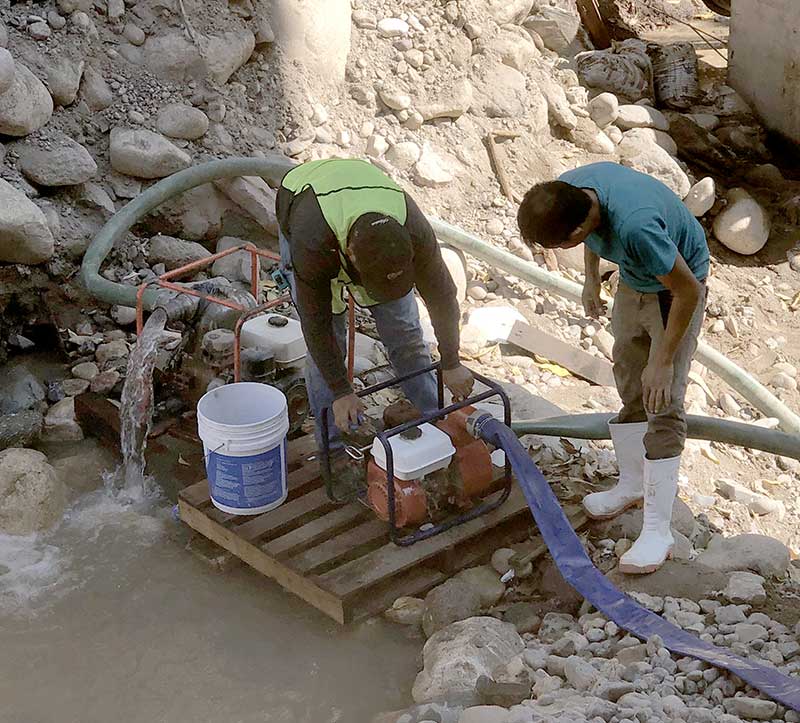 I met Greg at the gym and felt his easy-going, conscientious personality and interest in the arts would be a great fit. Boy, was I right — Greg jumped in and led a large group of volunteers to coordinate the Isla de Los Muertos Festival — a fun, family-friendly event that will now be an annual celebration of Día de los Muertos on the island.
New friends Kika, Stephan and Ada were wonderful ambassadors and advisors with social media and public relations that raised awareness of our efforts and drew in more volunteers and sponsors.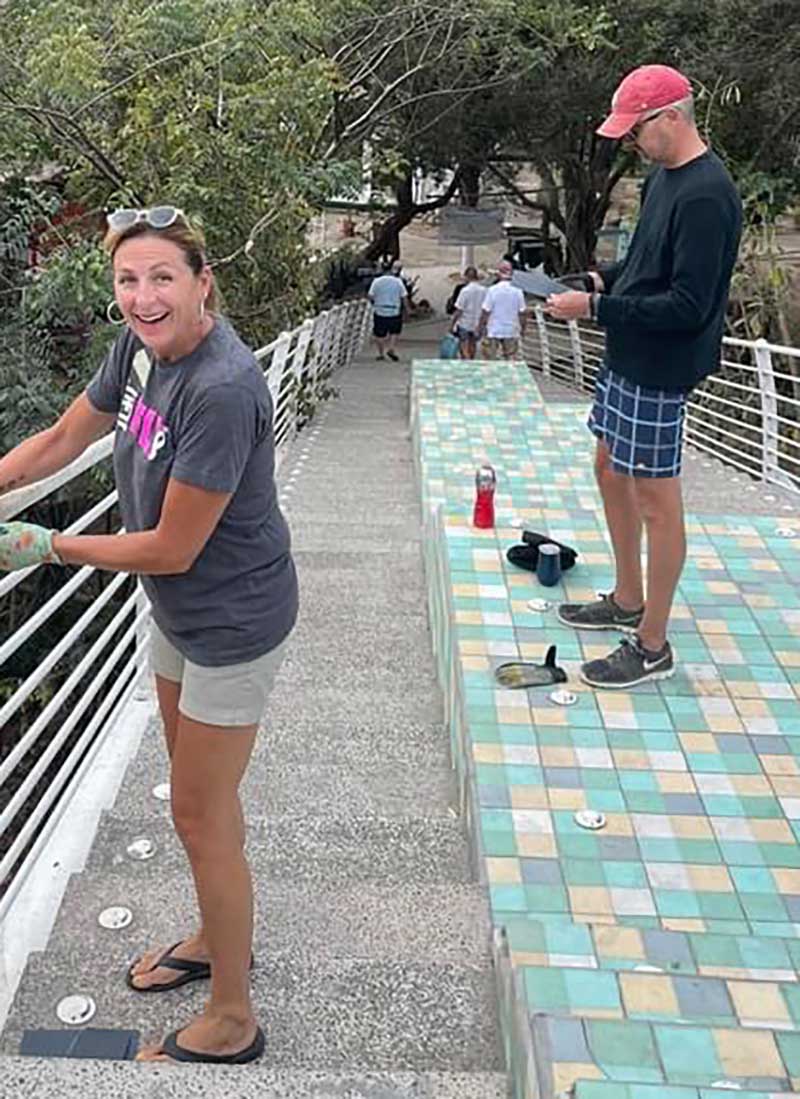 Funding the Transformation
I relied on lots of wonderful people to fund the renovation. I initially raised money through GoFundMe and PayPal. Dozens of people contributed to purchase plants, garden tools, cement, electrical and plumbing supplies and to cover the cost of hundreds of hours of labor by local people seeking work. Many others donated goods in kind including soil, sand, plants and much more. The Jay Sadler Project, A.C., also donated several picnic tables and play equipment for the children's play area. We also raised funds by selling commemorative stepping stones and benches throughout the island gardens.
Getting the Work Done

The original labor force consisted of dozens of volunteers and a handful of homeless people who lived on or around the island. It should be noted that the renovation could not have been completed without the homeless, but continuing their employment ultimately became unsustainable due to the many challenges inherent in working with this population.
From Unofficial to Official
The Amigos committee felt after two years of fundraising we needed a partner. Our key partner in the renovation was the Vallarta Garden Club and they have been working hard to improve Puerto Vallarta for more than 15 years. They were a well-established and legally-designated non-profit organization, led by the very capable John McKinney and a very strong board of directors. On January 2023, 16 months after Hurricane Nora nearly destroyed the Isla Cuale, there was a long-term plan set in place with the VGC. Amigos de la Isla Cuale became a committee under the VGC and a new era was born.