Learn about what's around the Isla Cuale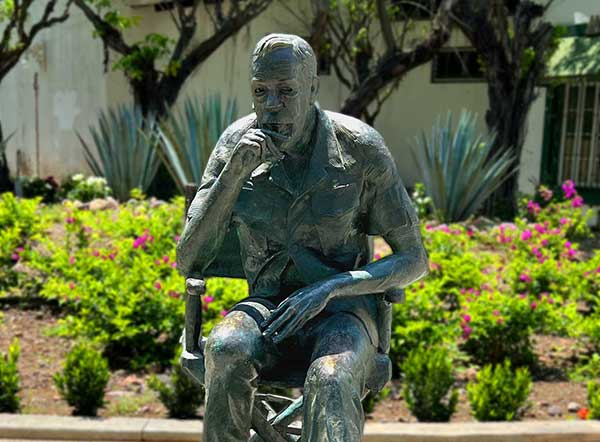 Ask any Vallarta local and they will tell you John Huston played a huge role in the history of Puerto Vallarta with his film Night of the Iguana.
This statue commemorating Huston's movie directing career was installed in Isla Cuale in 1988 and was recently restored by Amigos de la Isla Cuale and Vallarta Garden Club volunteers.
Space, Time and Movement Sculpture
This concrete scupture titled Espacio, Tiempo y Movimiento, was installed in Isla Cuale in 1987. This massive artwork was a collaboration of students from the Sculpture Camp of the National School of Painting, Sculpture and Engraving of La Esmeralda. 
Under the direction of Ignacio Granados Valdés and his fellow students, and with the assistance of the teachers from the school and the municipal goverment of Puerto Vallarta, this project was a huge undertaking for everyone involved.
The structure was inspired by whales, dolphins, and other marine animals elegantly emerging from the water, whose movement combines time and space in one beautiful form.